Disclosure: This blog is intended for informational purposes only and is not a substitute for professional medical advice, diagnosis, or treatment. Herbs are amazing tools; however, some plants can be harmful, even toxic, to consume. Please always do you research and be 100% confident you know what the plant or herb is before you ingest it. There are many great resources to help you do this including the book link reference in this article. 

Plants are the most powerful tools we have for human health. Even modern medicine has a long history of using plants to treat disease (1). From broccoli to yarrow, each plant offers its own unique healing compounds. Herbs are some of the most prevailing plants for treating, preventing, and curing human disease, along with many more benefits. Herbalism has often been looked on as "folk medicine" and society has steered us towards modern medicine. However, with the current events in the world, many of us are turning to self-reliant methods that humans have practiced for thousands of years, including herbal medicine. There are many methods to using herbs as medicine, including drying, making tinctures, and even eating them fresh. We'll be discussing how-to methods for preparing and using them in the article, but let's first look into why herbs are such powerful tools as medicine!
"The plant-derived compounds have a long history of clinical use, better patient tolerance and acceptance. To date, 35,000-70,000 plant species have been screened for their medicinal use (1)."

Herbs not only contain powerful compounds like phytonutrients to fight disease (see this post learn more), but also having amazing benefits for the overall health and wellbeing of the human body. Herbs help the body eliminate waste, promote healing, and increase the overall energy of the body through detoxification (2). Herbs help "move out the old to make way for the new (2)," if experiencing poor digestion or sluggish detoxification. Their mineral and vitamin content, including phytonutrients, help the body heal and reestablish proper function. Feeling tired and worn out? Herbs provide a boost that not only help the body heal, but detoxify, thereby, increasing day-to-day energy levels! Amazing! 
Purchase one of our grow towers and put a produce section in your home today.
Now Let's talk about the "How"!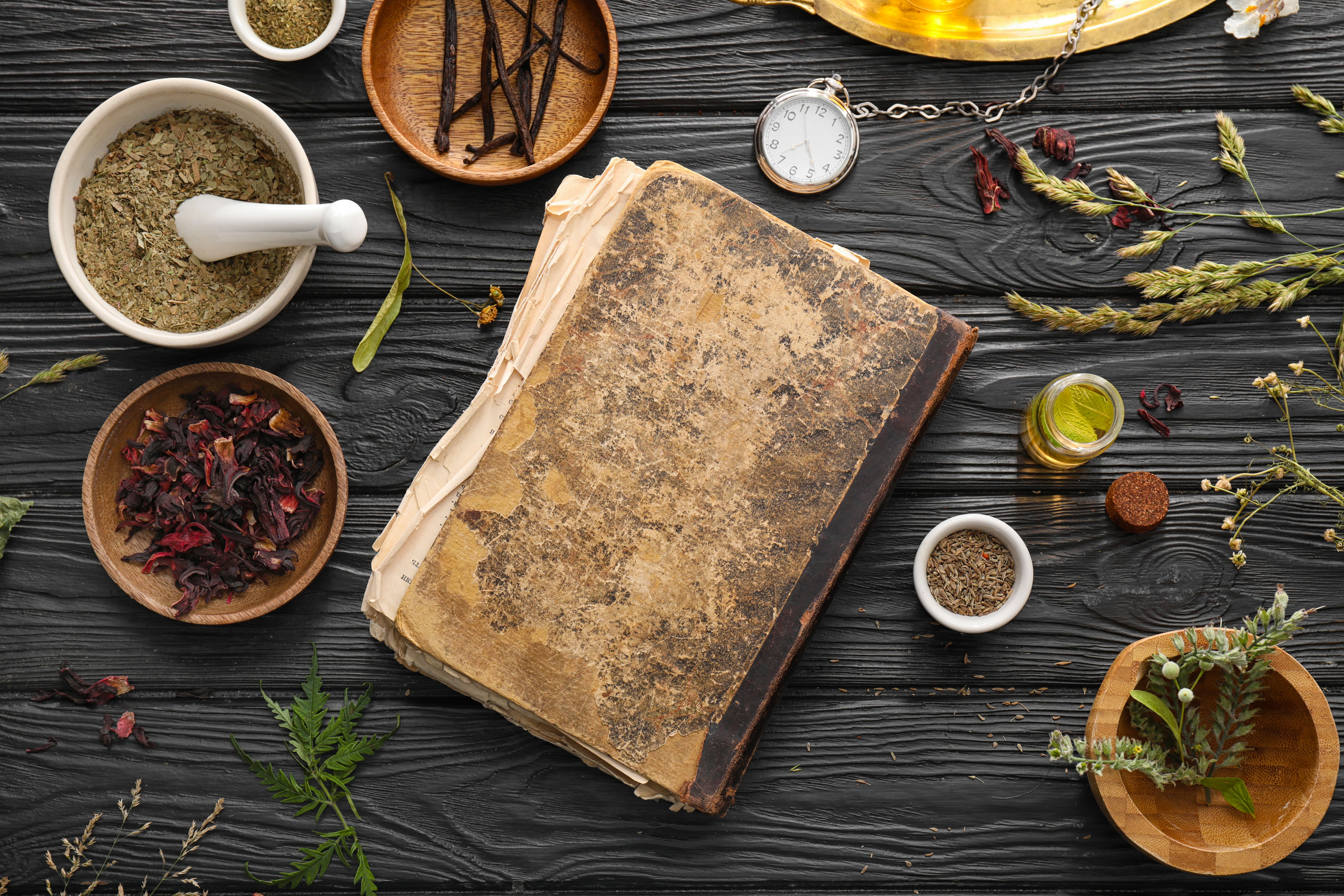 1. Research and Discover First
Before you ingest any herb, you should always do your research prior. When you have an issue or concern at hand, the first step is to research what herb/herbs would be most beneficial. If you're anything like me when you have an issue you first turn to the clutch of an internet search. Don't get we wrong, the internet is a powerful tool, for research, if done in the realm of research and not fear or random desperate searches, as I'm sure we all have done-well, maybe just me. When you are using the internet for a tool, type in your search criteria ".org", ".edu" or "study". Look for published article have done studies on your topic du-jour. 
The next best thing, if not the first, is to be prepared ahead of time with books and resources to guide you on your herbal journey and to have your "medicinal" remedies from a trusted source only a bookshelf away. One we have come to love in our home is, The Herbal Apothecary by JJ Pursell (see source below for a link to the book -2). This a fantastic herbal resource guide with and expensive indexed herbs and health concerns to easily be able to look up whatever ails you are whatever herb you are interested in learning more about. This book also has how-to tutorial guides on how best use these herbs for maximum benefit. The great thing is that it also has fantastic pictures of the herbs, which is so important, especially when foraging the herbs yourself. Which is the second most important aspect of researching…be 100% sure you know what you know what you are ingesting before doing so. There are a lot of look-a-like herbs, so you just want to be very careful. However, you most certainly don't want to be fearful. With the careful research you are only have an amazing powerful tool in your toolkit to help prevent, treat and cure illness without the use of pharmaceuticals, and sometimes and an even free resource if you live in area where you can forage!
2. Preparing Your Herbs for Use
There are many ways to prepare and use herbs for medicinal purposes, from eating them raw in a beautiful salad to apply poultices for use, where you are externally applying the herb alleviate pain, infection, swelling and inflation. We're going to keep in simple today with a few simple methods on how you can start using herbs today! 
Consuming herbs fresh can be a fantastic way to incorporate healing herbs into your diet. However, some herbs can be bitter, difficult to ingest, plus many preparation methods will increase the amount of healing properties of the herbs, like infusing herbs overnight to make a strong medicinal tea (see recipe below). 
In order to make that fantastic tea + other preparation methods, dried herbs may not only be necessary, but also increase the shelf life of the herb, making it more accessible a time when you may need it most, but the plant is not in season. Drying herbs can be dried many ways including with a dehydrator, the oven, and a freeze-drier. There are benefits and drawbacks from each. However, the one method that our ancestors were using long ago is the simple act of hanging the herbs upside down and letting the air do the hard work!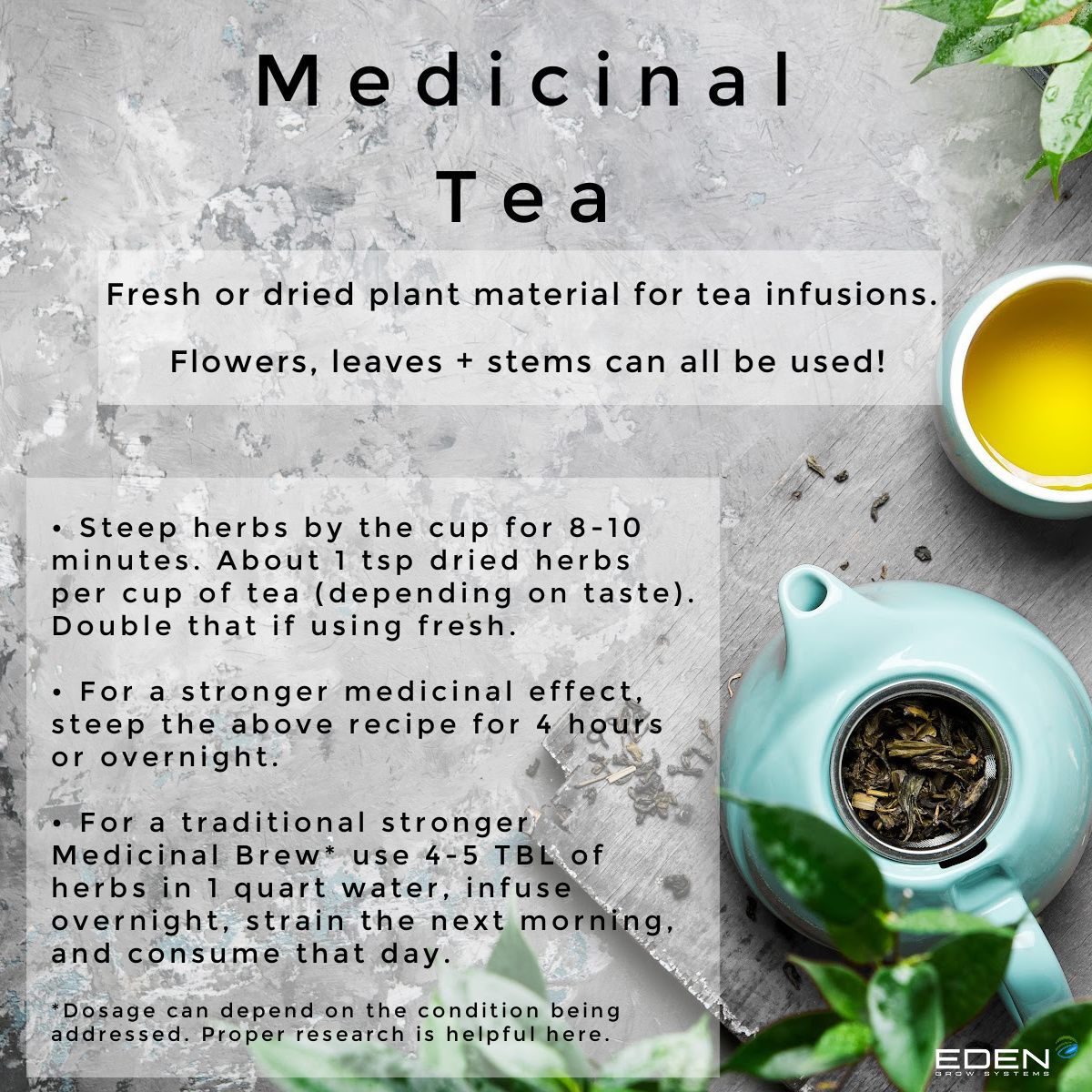 Photo references:  The Herbal Apothecary: 100 Medicinal Herbs and How to Use Them: Pursell, JJ: 9781604695670: Amazon.com: Books; Make Your Own Herbal Teas – Mother Earth News | The Original Guide To Living Wisely

If you don't have the time or the ability to forage, I highly recommend you check out Mountain Rose Herbs. They have an extensive list of not only dried herbs/medicinals, but so much more!
To Dry Herbs: 
First, you'll need to forage and clean your herbs (you can also use store bought). A tip is to forage your herbs early in the morning to lessen the amounts of bugs. Before you hang your herbs you'll want to dry them on a towel for a bit to get the large amounts of water off – but not too long where they'll wilt. 
Simply hang fresh herbs upside down in a well-ventilated area. You can cluster the herbs in small bunches; however, you don't want to do too much in one bunch as you want to make sure all pieces get air to make sure everything gets nice and dry. 
Now all you have to do is leave them for a week or two to make sure they are fully dry. You can store them for use! For convenience and storage space it is nice to crush/crumble the herb first; however, for freshness leaving the herb whole, if you have the space, will give the dried herb a longer life. For instance, when you dry basil, leaving the leaves whole to allow less air to get to the pieces of the herb and then crushing them when you need will give you a fresher product. 
To extend the shelf-life of you dried herbs even more, store them in a cool, dark, dry place. It's moisture, air and light that are going to destroy your herbs. 
Now let's get to using them!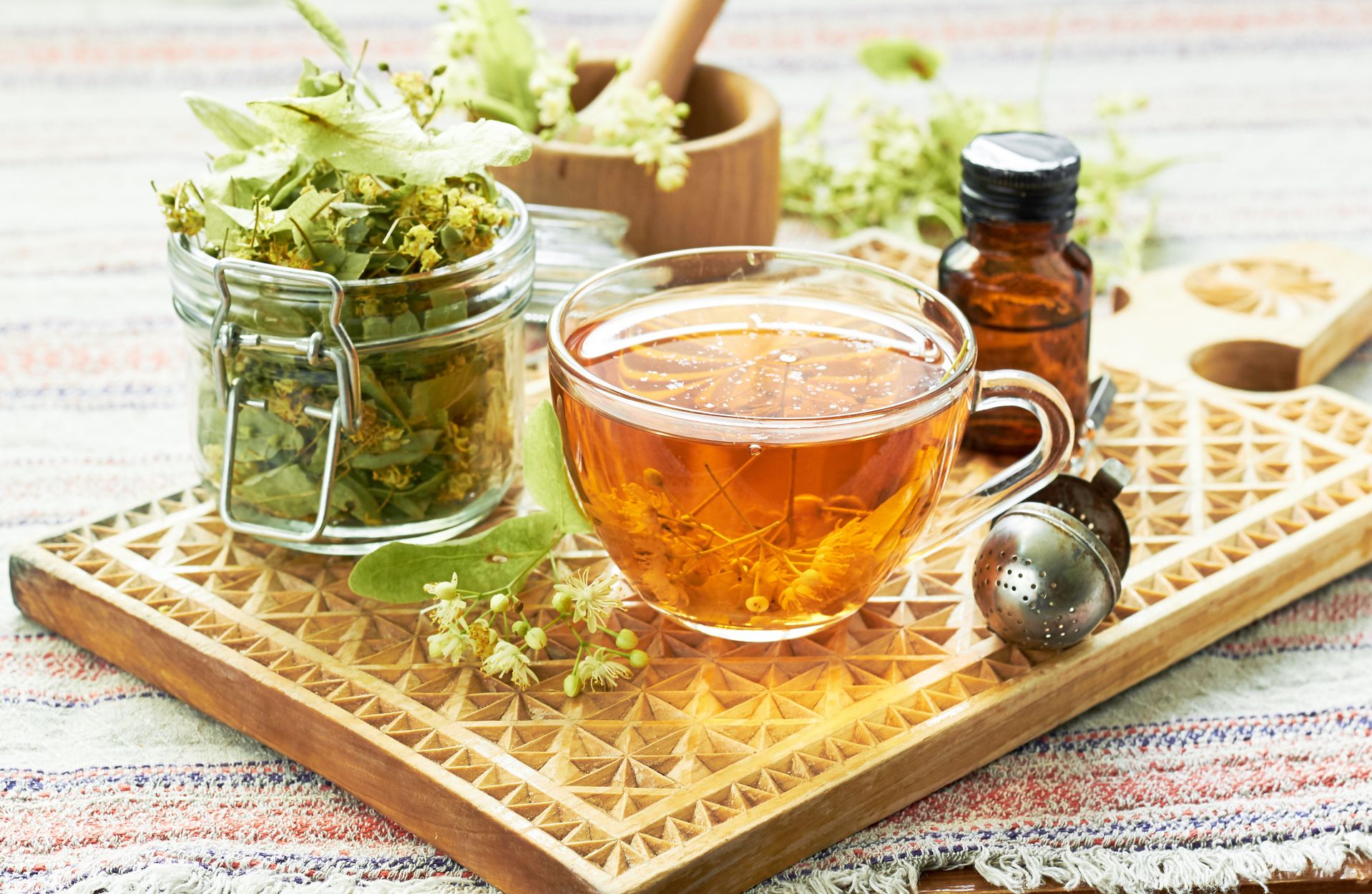 3. Ways to Use your Herbs 
Herbal Tea Infusion
When you think of using herbs this probably the one that comes to mind first. Aside from eating the herb raw, this probably the simplest and easiest methods – and can also be the most effective, ways of using herbs as medicine. Teas have an advantage over some other applications of herbal use: they are absorbed through the gastrointestinal system -meaning teas are fantastic choice if you want to treat problems with the mouth, stomach, small or large intestines, kidneys, or bladder because the tea will move the herbs directly over the affected area. 
Making a medicinal tea infusion, where the active properties from the herbs are infused into water, it really is as easy as it sounds, and even more effective than you may think.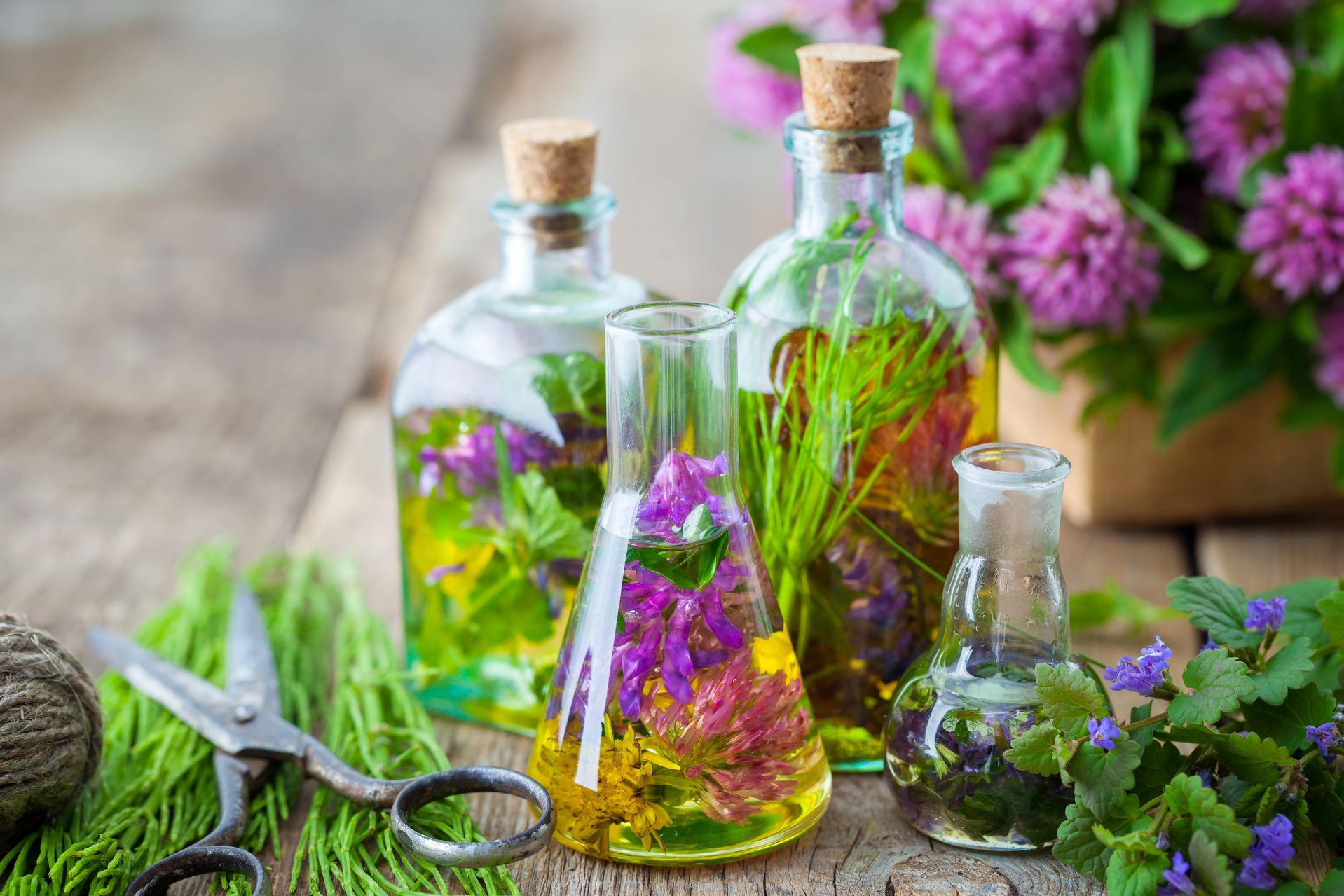 Herbal Oil Infusion
Herbal oils are one of the most fun herbal concoctions to make. Herbal oil infusions are beautiful and can smell lovely as well. There are so many ways to use them. A medicinal herbal oil has the ability to be readily absorbed and focus on the area affected. Herbal oils are often used as the base of herbal salves, creams, scrubs, and lotions. Both herbal and fresh oils can be used in herbal infusions; however, you will want to do your research first as some must be processed fresh, like St. John's Wort and mullein flower due to their medicinal properties being depleted when they are dried. You can use almond, avocado, jojoba, grapeseed, apricot, or castor oil for you infusions; however, the most common one is olive oil. I recommend not putting any oil on your body that you wouldn't ingest…organic, cold-pressed olive oil is best. 
There are also multiple ways to infuse oil with herbs, including oven, crockpot, and the solar-infused method. Today I'll be explaining the oven-method, as it's the most practical for everyone. Plus, it requires a shorter infusion time! Before you begin, you'll want to make sure that the herbs are oil soluble. I highly recommend making lavender oil! Your house will smell amazing and you will be relaxed in no time! Along with helping mood, anxiety and depression, lavender has also been shown to support sleep, reduce pain and inflammation and is still used today for it's antibacterial and antiviral properties (3)! 
Supplies needed: Herbs and oil of choice, deep glass baking dish, quart mason jar, kitchen towel, and a cheesecloth. 
To prepare: 
1. Place the herbs in a deep glass baking dish and pour enough oil over the herbs to cover them by 1 or 2 inches (or a 1 to 10 ratio of herbs to oil). 
2. Stir the mixture well and place the dish in the oven at 150 -170 degrees F for 4 to 6 hours, stirring about every hour. 
3. Remove the dish from the oven, stir it again, then cover it with a kitchen towel and let it sit overnight. 
4. In the morning strain the mixture through the cheesecloth and pour the herbal oil into a clean, dry jar. Store in a cool, dark location. 
There are many more methods and use of herbs. I highly recommend you dive into researching them. As far as learning about the herbs, I find it best to research one as you need it. It's more likely that you will remember it if you use it and it's attached to a memory. The world of medicinal herbs can be quite overwhelming – a person could spend a lifetime learning in this area. However, the research and time invested is well worth it. For every new herb you discover that is one more path to healing, without the need for modern medicine, that you have in your arsenal to help you, your family and even your community. 
"How much better to get wisdom than gold, to get insight rather than silver!" (Proverbs 16:16 NIV)
This not only leads to a healthier, more fulfilled life, but is moving you even more forward to decentralized, independent, and self-sustainable living – which we are truly passionate about at Eden. Herbs are literally God's medicine and so much more, if we would just take the time to look around us and utilize what He has given us – His AMAZING creation at our fingertips – or pruning shears😉!

Want to learn even more about how to live an even more decentralized, independent life by growing your own food, including medicinal herbs? Head over to edengrowsystems.com
Be sure to also check out our latest posts...
Sources: 
1. 
Natural products derived from plants as a source of drugs (nih.gov)
2. The Herbal Apothecary: 100 Medicinal Herbs and How to Use Them: Pursell, JJ: 9781604695670: Amazon.com: Books
3. Lavender: Health Benefits and How To Use It – Cleveland Clinic

Alicia Raymond is a Content Creator for Eden Grow Systems. Alicia is passionate about helping others live healthy lives and believes growing your own fruits and vegetables is one of the best ways to achieve this. She loves to cook with the food she and her husband grow on their 20-acre homestead in the Pacific NW, where they have also documented their adventures of building and operating a self-sustaining off-grid food habitat on their YouTube channel, therealmartian.com. This effort has now turned into Eden Grow Systems, an indoor grow company. Alicia has experience growing microgreens for profit, and food blogging. She is a former registered nurse, holding a B.S. in Nursing.