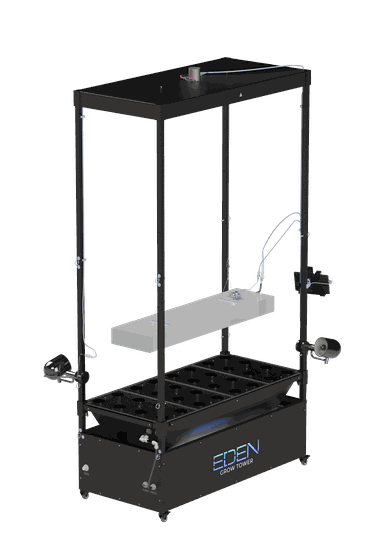 ET100T Single Deck Grow Tower, Tall, no Reservoir
---
The ET100 Tall is a single deck grow tower capable of growing 32 plants of large stature (up to 6 ft). This includes crops like tomatoes, cucumbers, corn, vining peas and beans, vining berries, and hemp. Note: this tower requires an additional tower equipped with a reservoir for supplying nutrient solution, or the optional 10-gallon reservoir.
---
Payment Plan Options
Choose our Interest-Free Payment Plan to Secure YOUR tower NOW!  

Modular Design
The modular design of the Eden Grow Tower makes it simple to set up, and easy to scale up by adding more towers at any time. Each tower is a complete system. The ET100T-10 consists of one Grow Deck with Root Chamber, a 10-gallon / 38-liter Reservoir (optional), a Base, a Motorized Light Deck, and a Trellis Mount.
Universal Grow Deck
Grow what you want, when you want.
Our 8 sq. ft. Grow Deck offers you the ability to grow up to 32 tall plants like tomatoes, cucumbers, hemp, and other tall varieties.
Computer Control
No skill growing?
No worries!

The ET series is computer controlled with pre-programmed growing instructions.
WIFI Enabled
Want to access your tower from anywhere?
No problem!

Simply connect to WIFI and enable internet sync in our app and you can monitor and control this system from anywhere on the planet.
Dual Fans
Air movement means strong, well pollinated plants.

Each Grow Deck is equipped with two adjustable fans for great circulation and greater yields!